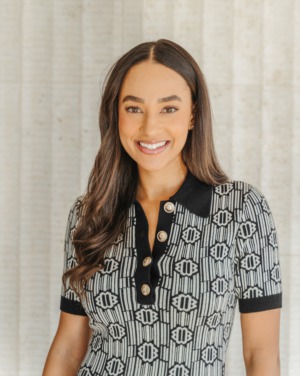 A fourth-generation Los Angeles native, Tyler Hill empowers her clients with an in-depth knowledge of her home city's diverse neighborhoods. Based in The Agency's Beverly Hills office, Tyler's enthusiastic, positive nature and wide range of talents, make her a dynamic, invaluable resource to her clients.

In addition to specializing in first-time buyers and resale, Tyler also has experience in new development sales. Her current projects include The Meyer at 3rd, condominiums in Beverly Grove and The Sevens, single-family homes in Hancock Park.

Before joining The Agency, she served as an Account Director at a nation-wide digital marketing firm and managed digital marketing campaigns for real estate clients—arming her with a rich understanding of positioning homes for sale.

The daughter of a film industry veteran and interior designer, Tyler has an inherent understanding of the intricacies of her city's various neighborhoods. After attending Palisades Charter High School, she graduated from Loyola Marymount University with a degree in Business Marketing. A born entrepreneur, Tyler recalls saving all of her Halloween candy in elementary school and selling it to her classmates at recess.

"Real estate is something I've always wanted to pursue," says Tyler. "Growing up in L.A., I've always admired the eclectic neighborhoods and architectural styles that make up our city. My ideal Sunday has always consisted of of visiting open houses or taking long runs through different neighborhoods and studying all of the homes."

An avid distance runner, Tyler has completed eight marathons, two half marathons and is a two-time Boston Marathoner. "The L.A. Marathon is by far my favorite race, because it gives you a glimpse of the various cultural pockets within the city and the positive energy is unlike anything I've ever felt." In 2018, Tyler finished as the 24th woman overall. Tyler also frequently donates her time to The Sierra Club and to the Westside German Shepherd Rescue, where she and her husband Kyle adopted their German Shepherd, Harvey.