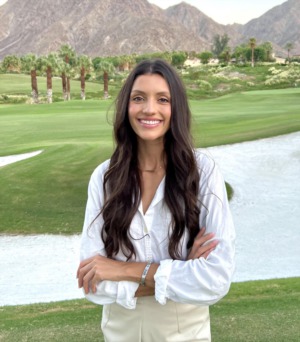 Dariann Diaz brings a wealth of real estate expertise to The Agency's Beverly Hills and Palm Desert offices, collaborating with the Ben Belack Group to deliver a streamlined real estate experience and successful results for her clientele. Expanding her business from the greater Palm Springs area—where she is originally from—to the City of Angels, Dariann knows the sunny California lifestyle well. 
Dariann attended Boise State University, where she studied Marketing. Always knowing that a traditional desk job was not for her, she thrives being out in the diverse neighborhoods of L.A. and Palm Desert during her day, meeting new people, seeing amazing properties and making authentic connections. As a real estate professional, she is able to use her diverse skillset and seizes every day as a unique opportunity to make a difference in the lives of others.
In her free time, Dariann enjoys spending time with her Goldendoodle, Winnie, and staying active, whether going to the gym, hiking or spending time at the beach.