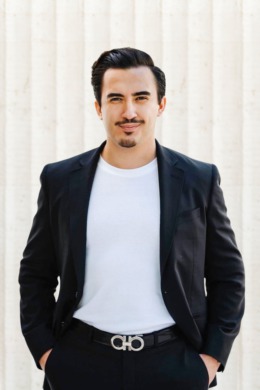 A Southern California native moved by human connection, Christopher Shahinian is redefining modern real estate. A creative, hard-working family man dedicated to utilizing his wealth of knowledge as a humanitarian tool, he is committed to helping families and individuals discover their dream homes by any means necessary. As a solution-oriented real estate broker and associate of Los Angeles-based real estate group, Ben Belack Group, Christopher offers personalized, life-changing services designed to simplify the process of home buying and selling.

Courageous in the face of conflict, Christopher rises to any occasion with determination and client goals in mind. For Christopher, excuses are unacceptable. Driven only by solution, he bridges the gap between dreams and reality for his expansive roster of clients. Awarded Rookie of the Year in his first year in real estate, his unstoppable dedication and passion for connecting the dots have been celebrated since the inception of his career. From long nights to early mornings, Christopher is ready and willing to ease the burden of property buying and selling by taking on the full spectrum of responsibility for his clients.

Innovating the modern housing industry since 2015, Christopher has been a consistent presence in the Southern California real estate landscape for over seven years and counting. Through formal education, mentorship, and comprehensive experience that spans the greater Los Angeles area, Christopher combines wisdom and practice with the merit of hard work to provide his clients with informed decision-making designed to meet their specific needs.

With millions in transaction volume to date and 100s of units sold spanning a vast network of homes and buildings, Christopher's work speaks for itself. Committed to meeting his clients where they're at, Christopher employs techniques of transparency, open communication, honesty, and empathy to provide clients with a 360° real estate experience. Ushering in a new vanguard of real estate in Southern California, Christopher Shahinian invites you to discover his award-winning services designed to simplify property buying and selling.